D&M Equipment Company of Chicago Hosts Wisconsin Service Schools April 30 – May 1, 2013
June 06, 2013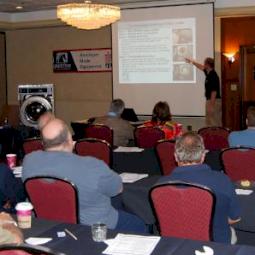 D&M Equipment Company, a Dexter Authorized Distributor, recently held Dexter Service Schools in Wisconsin for Laundry Owners and Service Techs. The event was attended by more than 30 local laundry owners and technicians. This event featured product displays, service and industry seminars, breakfast, lunch and more.
Don Tomasian and Joe Frankian of D&M, and Dan Osero, D&M's Wisconsin Representative welcomed everyone to the event.   The technical training was conducted by Russ Cooper and James Scotton of Dexter Laundry, along with Rick Case, D&M's Dexter Representative, who provided much needed advice and support.   Attendees came away with a wide range of helpful information on keeping their Dexter washers and dryers operating reliably and efficiently.  The Dexter Laundry factory technicians included service seminars on Dexter Washers, Dryers and Easy Card Systems.  ''Service training like this session is an important and valuable service for our customers'' stated D&M Equipment President Don Tomasian.
Visit D&M online at www.dandmequipment.com or call them today at 1-800-451-2676. Place your parts orders online today at www.dandmequipment.com/shop-online. Additional information on the complete range of Dexter commercial laundry products can be found at www.dexterlaundry.com
Contact
D&M Equipment Company Inc. 
4822 W. Fullerton  
Chicago, IL.  60639
1-800-451-2676
About Dexter Laundry
Dexter Laundry, Inc. is an employee owned manufacturer based in Fairfield, Iowa, USA. Founded in 1894, the company has grown to offer a full line of front load washers, drying tumblers, Easy Card systems, and equipment financing serving the on-premise and commercial laundry industries. All products are American made at Dexter's Midwest headquarters where employees work to engineer, manufacture, sell and support our best in class laundry products around the world. Learn more at www.dexterlaundry.com or call 800.524.2954 to find your local Dexter Authorized Distributor.
About D&M Equipment Company
D&M Equipment Company, Inc. is an experienced commercial and industrial laundry equipment distributor serving Illinois, Wisconsin, and Indiana for over 40 years. Established in 1965, D&M's distribution facilities include a fully stocked parts department with knowledgeable personnel happy to serve you 6 days a week, a service department, an equipment showroom where equipment is on display, in-house professional equipment installers, and an equipment sales division eager to assist you with any of your commercial laundry needs.