At Dexter, we're only as good as the people on our team. That's why we hire the best and train them to reach their potential. As an industry leader in laundry solutions, Dexter offers competitive wages, extensive benefits packages and a great work environment. Take your first step toward joining the Dexter team. Apply today!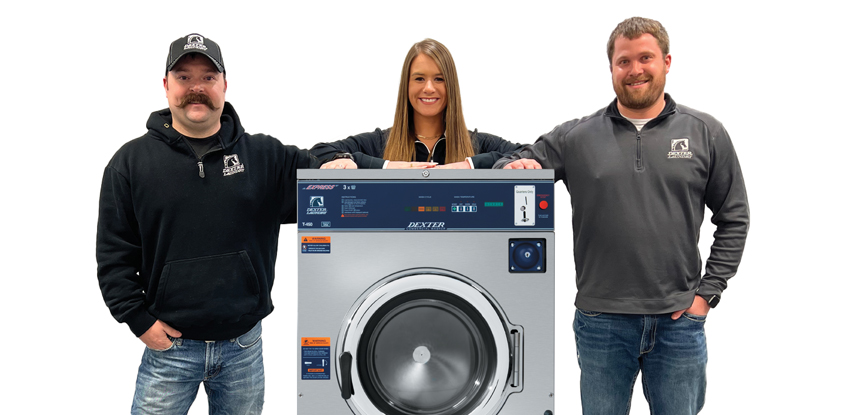 Our Vision
To be our customer's competitive advantage.
Our Mission
To help people and businesses process laundry faster and more efficiently.
Employee Owned
At Dexter we know that our individual success depends on the success of our customers and our team. As a 100% employee-owned company, we truly take that to heart and work together to make that success possible.
Made in the USA
All of our products are made in the USA by our team of skilled craftsman. Our state-of-the-art manufacturing facility is located in the heart of America.
A Tradition of Excellence Since 1894
We're proud to have been in business for over 125 years. Our products have evolved with the times and today our commitment to helping people process laundry faster and more efficiently remains strong.
Quality Products
We believe that every Dexter-branded product should be built by us and we refuse to compromise on the engineering or the quality of the materials that are put into each machine.
Innovative Growth
Today we offer a full line of commercial washers, dryers and laundry management systems. Our team is constantly looking for ways to innovate our products, improve our manufacturing process and also provide a better ownership experience for our customers.
A Great Place to Work
We offer competitive wages, great benefit packages and the opportunity for our employees to continue to grow in their careers.
Interested in Joining the Dexter Team?
Click below to view our current job openings. If you don't see a position opening but think you could be a great fit you can email us at careers@dexter.com. Be sure to include your cover letter and resume.
View Current Job Listings