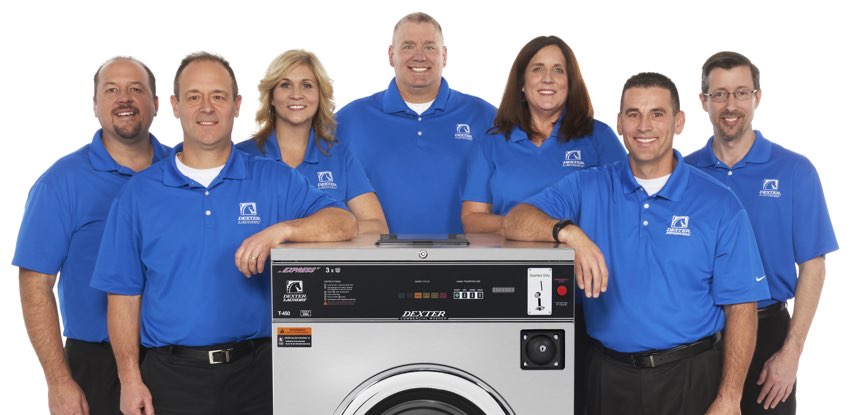 Better Together
As Dexter Employee-Owners, we are passionate about creating the best laundry ownership experience we can. That's why our focus in every product we build and every service we provide is to make you successful and satisfied. Our belief is that our business and yours will always be better together.
Russ Cooper — Manager of Technical Support

Employee Owner Since 1998

Russ is passionate about Dexter and truly committed to helping serve our customers in any way that he can. When you call technical support, you reach Russ and his team — a group of experts that are committed to helping customers get the most from their investment. They are also well-known for leading expert service schools around the globe. Russ takes the responsibility of being the voice of the customer very seriously to ensure that their requests and needs are heard. His passion for this business is contagious and he counts many laundry owners, service technicians and distributors as personal friends. Outside the office Russ enjoys his time with family and volunteering at his church and throughout the community.

"I'M ABSOLUTELY PASSIONATE ABOUT HELPING OUR CUSTOMERS BUILD BETTER BUSINESSES."

Julie Fulton — Sales Coordinator

Employee Owner Since 1997

Julie is the first and last step of every product ordered at Dexter. She assists our distributors with product orders, ensuring that we plan for, order and build the right products at the right time. Once the product is ready to ship, she handles all the arrangements to get them loaded and delivered. Julie has a big heart and she takes great pride in caring for those closest to her both inside and outside of the office. She loves spending as much time as she can with her grandchildren, especially when they all go boating and enjoy the lake.

"WE STRIVE TO BE THE BEST FROM START TO FINISH."

Katie Six — Human Resources Coordinator

Employee Owner Since 2015

Katie is the welcoming voice, and face, of Dexter. She greets every caller and visitor we have with her positive and caring attitude. Between her customer service and HR responsibilities Katie is committed to helping to serve the Dexter family. In her free time she teaches dance lessons to the kids in our community and supports her husband in his military role, which includes helping to honor our veterans at military funerals.

"I ALWAYS GO THE EXTRA MILE, KNOWING WHAT I DO IMPACTS OUR CUSTOMERS."

Steve Cardis — Engineering Manager

Employee Owner Since 1996

Steve is the Dexter product expert. With 22 years of Dexter engineering experience he has left his mark on every product that we build. He truly believes in creating products that we can stand behind with confidence and he knows how vital that is to making your business successful. Around the office Steve has a way of delivering witty jokes at the most unexpected but perfect moments and he always keeps our team laughing. When he's not making jokes and creating things in the office, Steve enjoys building projects at home with his son.

"WE'RE DESIGNING MORE THAN JUST WASHERS AND DRYERS. WE'RE HELPING TO BUILD OUR CUSTOMERS' FUTURE."

Doug Kuehl — Director of Manufacturing

Employee Owner Since 1991

For over 25 years, Doug has played important roles in almost every manufacturing and supply chain function at Dexter. Today Doug and his team keep the Dexter factory running like a well-oiled machine. From the purchased parts and raw metal to the assembly line and finished products, they focus on building quality into every Dexter product. Creating a fun workplace is just as important to Doug as creating a productive one. He does his part every day to keep the team laughing. He embodies the employee-ownership mentality and will always go the extra mile to do what is right for our customers. In his free time, he likes to entertain and spend time with friends and family.

"I BELIEVE IN OUR MISSION TO STAND BEHIND EVERY PRODUCT."

Eric Jensen — Production Manager

Employee Owner Since 1994

When it comes to the Dexter factory and building quality products, Eric leads the way. Eric has a big heart and a passion for building a strong team. That influence translates into a factory filled with people who are passionate about what they do. Eric and his team work together every day to build and assemble the Dexter products that will serve you for years. He is always wearing a big smile and is proud to showcase the benefits of manufacturing job opportunities to area youth. When he's not at work, Eric likes to spend time with his family, especially doing things outside like farming, hunting, and boating.

"IT MAKES ME PROUD THAT OUR CUSTOMERS TRUST US WITH THEIR FUTURE."

Leo Frazier — Vice President and General Manager — Dexter Financial Service

Employee Owner Since 1991

After over 25 years of financing laundries, Leo knows better than anyone the true impact that the laundry industry can have on the lives of our customers. He's helped people build amazing businesses that have changed their lives. As a part of Dexter Financial Services, he loves building relationships with customers. He works with each individual to envision the opportunities a laundry investment can have on their future and assists them in creating a plan to make that a reality. When he's not crunching numbers, Leo likes to spend his time at the baseball field, cheering on his three boys.

"I LOVE HELPING CUSTOMERS GROW THEIR NET WORTH."